Circus School: Week 1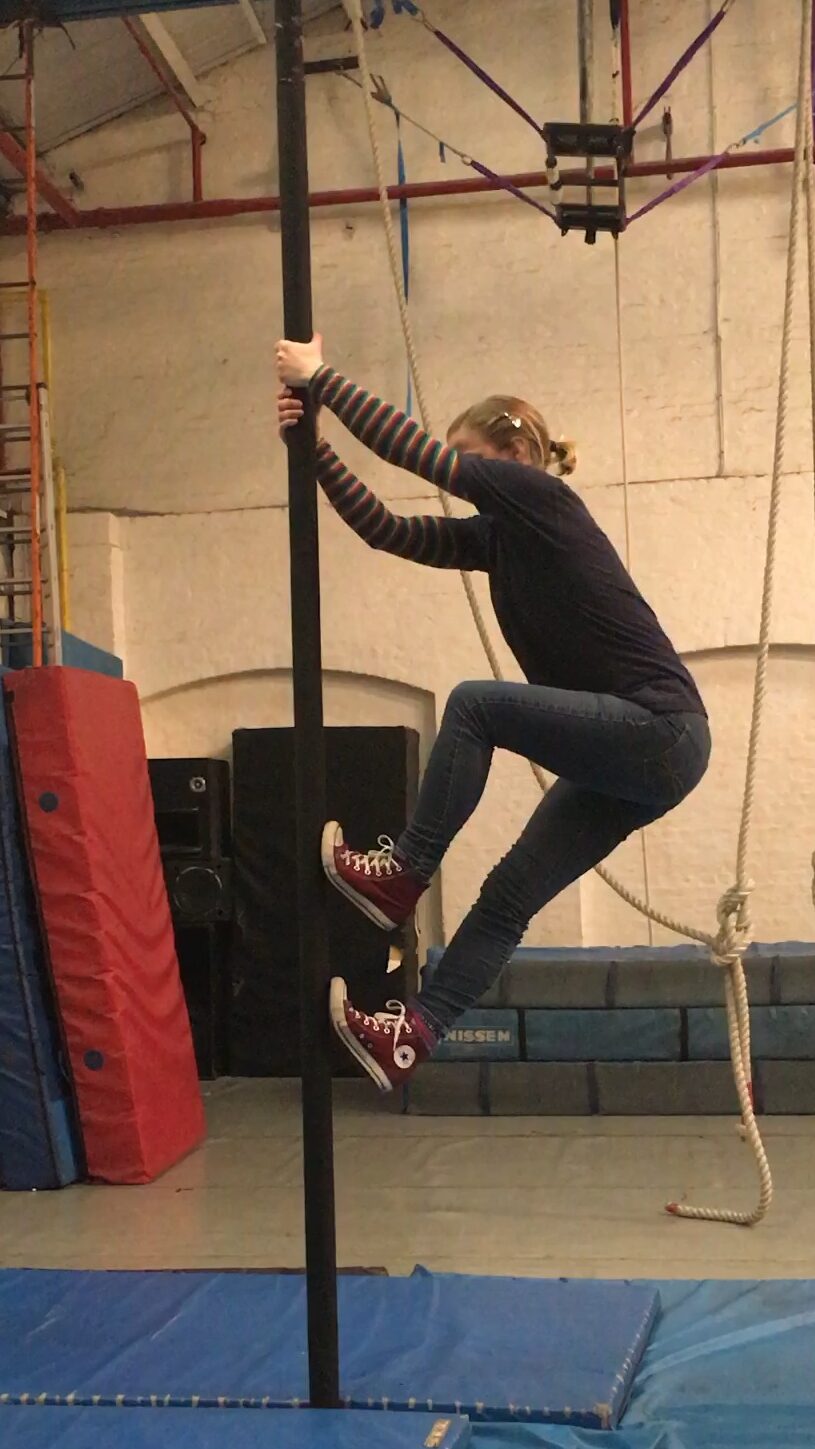 Life as a circus girl begins here, it seems. On Monday I started a full-time foundation course in circus arts at Aircraft Circus in London. With any luck, in 4 months' time I'll be performing in my first show. This is the story.
The first week has been focussed on getting to know each other and finding out where we have experience or not. We're somewhat depleted in numbers at the moment due to illness and travels, but the four of us here have amassed a good collective experience to date in trapeze, Chinese pole, hoop and silks. We should be able to help each other out on the apparatus we have experience with, which is great news. We're also training alongside an intermediate course with several people who have already been through the foundation course and have a ton of advice on what to expect. Everyone is lovely, energetic and excited to be starting a new project. I'm kinda excited to see what we will come up with for our collaborative show!
Most of the classes, including static trapeze, hoop, silks and rope were fairly basic introductions covering things I've already done before. However I added a new climb on the silks and am working on an ankle hang in trapeze. I think ankles is going to be like toes and heels on the hoop, takes forever to build up a tolerance to the bruising and scraping and an immunity to the pain of steel or rope on bones.
I was one of the ones with experience in flying trapeze, so I got to try out a hox dismount in the first class. I'd not expected to like fly, after trying it out at the National Centre for Circus Arts (NCCA) and being a bit overwhelmed, but it was much easier this time around. Anything involving timing, balance or elegance (in fact, pretty much anything except strength) is not my strong suit, but I am figuring out the timing of the swing fairly well considering this lack of a knack.
We have an hour and a half each week dedicated to "specialist skills", something we'll try once usually in equilibristics or manipulation. This week's lesson was in juggling. Balls, scarves, clubs and rings flying everywhere. Whilst I can't say it came naturally, I'm pretty happy with the progress I made in the lesson and will continue to practise 3 ball cascades and reverse cascades in my spare time. It's easy to practise and it's fairly easy to see myself eventually becoming at least proficient. And it's refreshingly bruise and burn free. Until I start playing with clubs and fire…
Chinese pole is also all new to me. It's a rubber-covered vertical pole which we can grip to climb and perform tricks. It requires a fair amount of strength, just like the rest of the aerial apparatus, but it hurts in more places. It's a strange, unyielding piece of kit, and I now have quite the collection of bruises and burns on my elbows and ribs.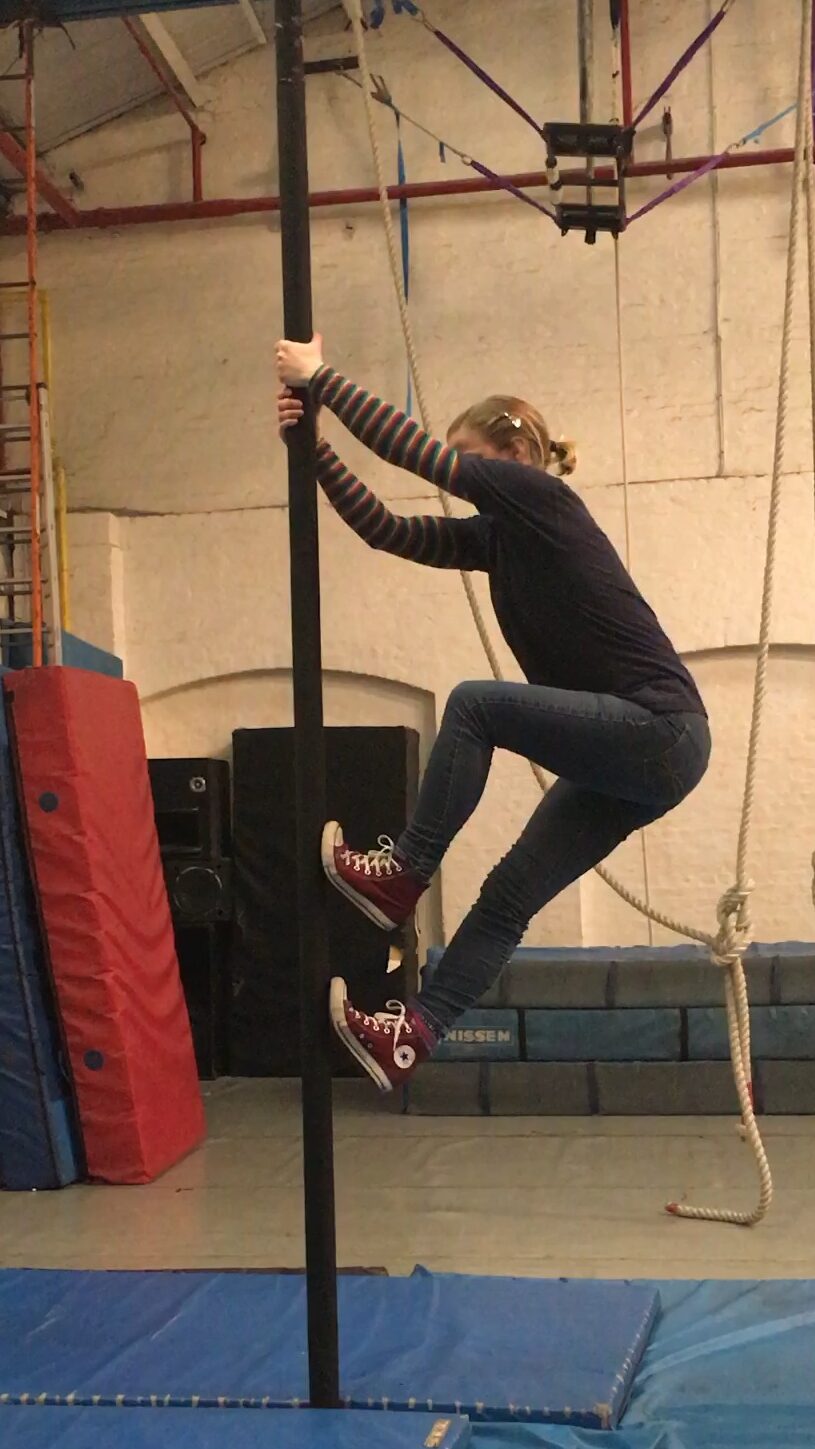 As well as the apparatus classes, we have regular classes in handstands, acrobatics and yoga as well as stretching and dance to make sure we have the right strength and flexibility to be at our best on the aerial kit. We also have a class in act creation. It's an entire afternoon once a week, and it looks like it's going to be amongst the most exhausting classes of the week! It's all about creative and theatrical energy, and it's hard to sustain. I was shattered after this week's which was a host of drama exercises and games. As the course goes on we will start to introduce our aerial routines, which will make it doubly tiring!
I've ended the week slightly run down, most probably because of all the exertion but also because the Hangar is freezing cold in February and there are a bunch of new people all training in close proximity. I'm looking forward to some rest and hopefully recovery before next week.