Circus School: Week 10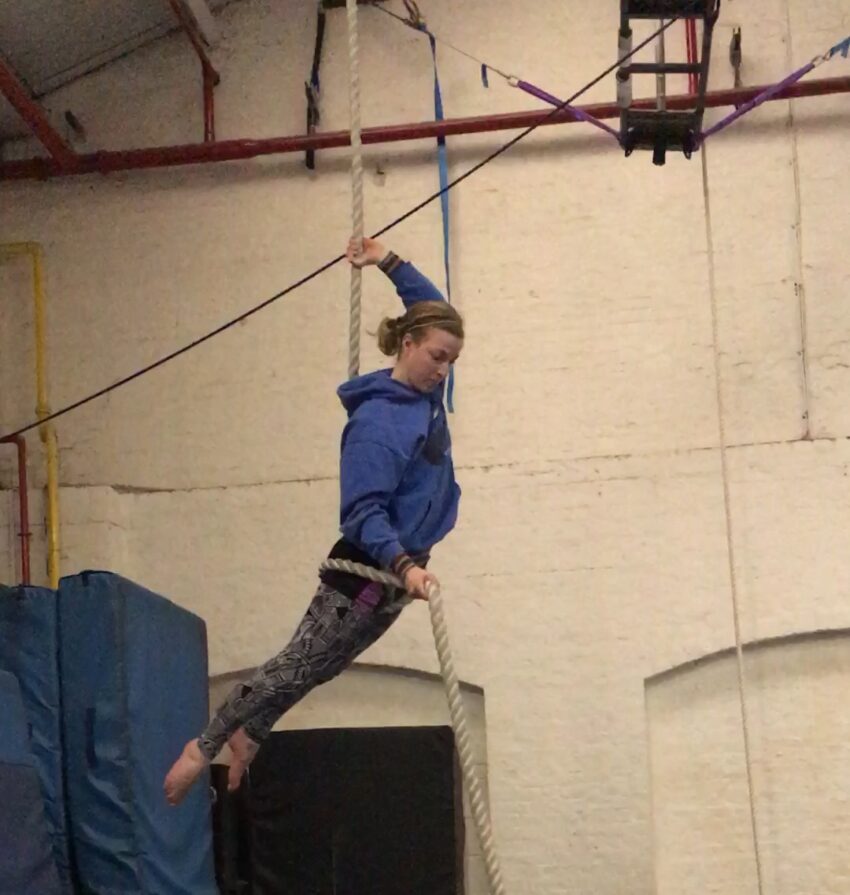 New tricks abound this week. Both hoop and rope brought completely new things. On hoop, I managed a forward belly roll which I've so far not attempted though I've done the prep. It came at a price though – falling off the hoop in a rather ridiculous way to the amusement of my classmates and the teacher (once they established that I wasn't hurt). The trick to a forward belly roll is a moment of extension followed by tipping forward in a perfectly straight shape and at the right moment tucking in tight around the hoop. This moment was explained to me as 'the moment after you start to feel scared'. Hmmmmmmm. Keep straight until you feel scared and then keep straight a bit longer. OK. So I did. Except I didn't feel scared. So I just kept tipping until I completed half a rotation in a straight shape with nothing to stop me from falling. I ended up on the mat under the hoop. Graceful. Still, I got it after a few goes! And as always, once you have a trick you should do it a few more times to make sure it wasn't a fluke. True to form, I videoed the only one that didn't go quite so great but it still went round. Check it out on YouTube and try to imagine the extremely calm dive on to the crash mat.
Handstands and rope were with different teachers this week. It's always nice to get a new perspective. Handstands focussed on lifting rather than kicking, and tuck, straddle and diamond shapes which are harder to balance than a straight shape. Not that I can balance a straight shape yet either. In rope, we looked at some dynamic moves. Swivel to catchers and tempo to front balance. Both quite tiring but will look quite nice in contrast with static shapes. I've started to put a routine together, but still have a couple of tricks that I want to learn before I can finish it. And then I have to practise them. Loads of time. Sure. It will be fine.
Wednesdays are now MAD. I have three hours of practice time in the mornings, followed by an hour and a half of silks, then three hours of act creation in the afternoons. Exactly the same as before Easter except…now practice time and act creation are mostly rope. So I essentially have a full day of rope/silks. Yes, arms, I'm sorry.
For the show, we have decided on a name and have created a poster which just needs finalising before we can send it out and start selling tickets. It's good progress although it feels like there isn't enough time to do everything!